Whether your traveling to visit family and friends or heading to the sunny South, make sure you have CAA on your side this Holiday Season!
Escaping the Winter cold is a popular Canadian tradition. I would love to soak in the sun on a tropical beach on our coldest of snowy days as well, but just remember that you need to protect yourself with travel insurance not only for trips to a tropical paradise but also for quick trips across the US border, as well.

Holiday Coverage
CAA offers Travelers Insurance on Medical Coverage, Trip Cancellation/Interruption,Rental Vehicle Insurance and more! It's really something you can't afford to be without! Don't let an unexpected emergency cost you a fortune! Plan ahead and stay protected!
Did you know you can also buy insurance for your visitors to Canada?? Over the holidays many families have visitors in from the US or overseas. Last Christmas we were lucky enough to have our Aussie Uncle staying with us to celebrate the season! CAA has a plan for friends or family planning to visit Canada from another country. Health insurance from their home may not cover them in Canada. This plan protects your loved ones against financial loss in the event of an unforeseen medical emergency.
Here in our local communities CAA members receive outstanding Roadside Assistanceincluding, but not limited to, Battery Assist, Emergency Gas Delivery, Vehicle Lock Out Service and Towing.
R.I.D.E CHECKS
CAA has been an advocate of safe driving practices for over a century, so it's no surprise to see them teaming up to support the efforts of police services in the Greater Toronto Area. This year CAA South Central Ontario (CAA SCO) is the new title sponsor of the holiday rewards booklet!
R.I.D.E. officially stands for "Reduce Impaired Driving Everywhere." and when you see a R.I.D.E  roadside spot check you might either groan for the inconvenience or appreciate that the police are working hard to keep our roads safe. In the GTA, law abiding drivers are rewarded with a holiday rewards booklet offering coupons as well as vital information about the laws and consequences of impaired driving to all motorists with the goal of improving driving safety for all drivers.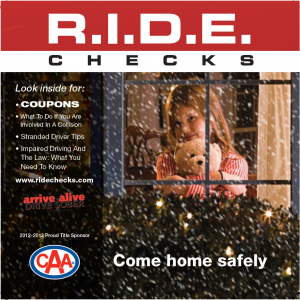 Tweet